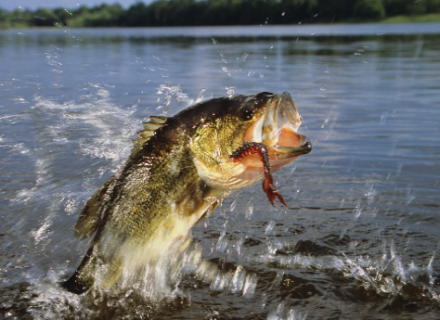 Getting to Know the Largemouth Bass
When we think about bass fishing most people immediately think about the Largemouth bass and for good reason. It's the most sought-after freshwater fish in North America and will continue to fight to keep it that way.
Many anglers from around the world come to the many different bass fishing destinations to find this fish. If they are lucky, they will come home with some big prizes and possibly a big dinner. 
We get into all the different details about the Largemouth bass here. We go over all of the different species connected to it as well. 
There are a lot of things you need to know if you plan to fish for this best of the best fish. From Rods to use and Reels to attach, all the way up to the best lures to use.
We hope this site can help you advance your bass fishing hobby and push you to catch even bigger fish in the future.
Welcome to Best Bass Fishing
When it comes to bass fishing it helps to have not only the right equipment but the knowledge to help you land big bass. We will help you learn all about the different species of bass. We will then break down everything you need to catch these amazing fish. Between these two things, you'll be ready to head out to your local pond, stream, river, or lake. You may even be ready to head out on an excursion trip somewhere around the country. 
Fishing Gear and Tackle
There are many great websites and YouTube channels waiting for you to visit. Just like these other locations, we are here to help you get the most out of your bass fishing experience. We know you can grab a pole and put some bait on it and head down to a local pond. For those wanting more, is the reason why we are here.
With such a wide selection of gear to choose from we knew it was important to give you the best options. Why would you settle for anything less when you have so many choices at your fingertips. 
Rods – If you plan to go bass fishing you most likely need a rod to get the job done. Whether it's short or long or light or heavy, you need to know which pole to bring based on the fish you are going after. We give you all kinds of the best bass fishing rod information.
Reels and Lines – The reel you decide to use could determine the kind of day you will have out on the water. This critical component could make your life a lot easier if you know what you are doing. We get into why having the best bass fishing reels is critical to your outing.
Lures – An artificial lure could be in order when you don't want to deal with live bait. Bass fish will go after many things. Having the right lure on the end of your rod could determine if you are going to catch something. We go over the best bass fishing lures for the species you are after.
Bait – If you are into live bait, then you've come to the right place. We go over all of the different bait options bass fish like to eat. Each one will be more specific than the next. You'd be surprised by the variety of each. Here, we go over some of the best bass fishing baits available to choose from.
Coolers – This may not be part of your tackle box, but you'll most likely need one for your fishing trip. If you plan to be out on the water for an extended period of time a good cooler is critical. Find information on the best bass fishing cooler here. Find the one that meets your budget.
Fly Fishing for Bass
Although flyfishing can look intimidating for some, with a little practice and understanding of what to do, you will be out there with a rod real soon. We cover the best flyfishing for bass information right here. You will learn everything you need to do to start flyfishing for bass. Learn some techniques, where to do it, and which type of bass fish to go after. Just like the equipment above, you will need certain equipment to help make your experience that much better. 
At the end of the day, you want to not only come home with some big bass fish, but you also want to have a great experience. A good time on the water can be way more exciting than what you actually catch. If you have any questions about the best bass fishing techniques, equipment, or anything else, please contact us and we will do our best to help you out.
Our goal is to provide you with not only knowledge about bass fishing but the best bass fishing gear you should be using. We focus on Rods, Reels, Lures, Baits, and Coolers. Yes, there are plenty of other things to add to your tackle box, but the things listed here will be part of your core equipment.
There is so much to learn about Bass Fishing. We will share everything we know and try to provide you with the best bass fishing information available. Some topics will get redundant but bare in mind that is the case with the bass species. It's up to you to gain the knowledge to be a successful bass angler.